Radlink3D
Evaluate Patient-Specific Functional Cup & Femur Position, Pelvic Tilt, Spinopelvic Mobility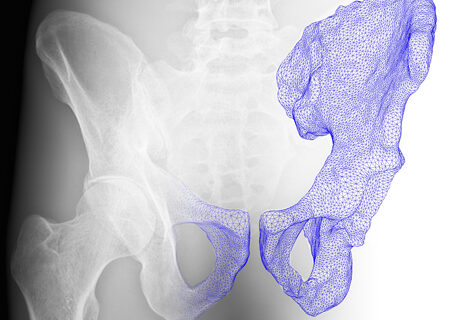 Radlink3D is revolutionizing orthopedic imaging guidance in the operating room. This patented technology is the first ever intraoperative 3D software that generates an exact 3D model to correct pelvis position, based on only one intra-op x-ray.
Beginning with a pre-operative CT or MRI 3D reconstruction, Radlink AI creates a working "MESH" model. Utilizing the hospital's existing radiology equipment, Radlink allows surgeons to capture and analyze an intra-operative xray. From this xray, AI recreates the 3D "MESH" model without the use of pins or arrays.
The 3D MESH model matches intra-op images to pre-op standing pelvis views. This helps surgeons account for implant orientation while visualizing spinopelvic relationships and femur position. By manipulating the 3D model, surgeons can normalize the intra-operative image to the preferred anatomical position to review acetabular cup placement, limb length, and offset.
Generate an exact 3D model to correct pelvis position, providing guidance for optimal implant placement during joint replacement procedures
Derive pelvic tilt difference between supine and standing positions
Assess spinal pelvic relationship on lateral standing and sitting x-rays

Derive the recommended target radiographic ABD and anteversion for functional (standing) pelvic position
Convert target radiographic cup angles at standing to anatomical cup angles at supine position.