GPS Tower
Streamlining Mobile Image Guidance
GPS Tower is our 4th-Generation hardware platform that offers a versatile, sleek and durable design to facilitate the transition towards a digital OR environment. Featuring a light-weight mobile computer cart, dual 24″ touch screen monitors and built-in embedded PACS, you can wirelessly acquire, transfer and display images in 4 seconds from anywhere in the OR or from any connected network device.
Mobility

Self-contained standalone unit for enhanced IT security
Lightweight Cesium wireless 14" x 17" Flat Panel Detector
Uninterruptible power supply to provide power when the unit is transferred to different operating rooms

Versatility

Seamlessly integrates into any existing surgical workflow to maximize OR efficiency
No need to break scrub, use sterile forceps to interact with software
Stream preop images from clinic or office to OR without using hospital PACS

Compatibility

Compatible with any existing imaging equipment, including any C-arm or mobile x-ray unit on the market
Radlink Remote access allows us to be online to run case remotely from anywhere in the world

Accessories: Bucky & Grid

GPS Trauma Tower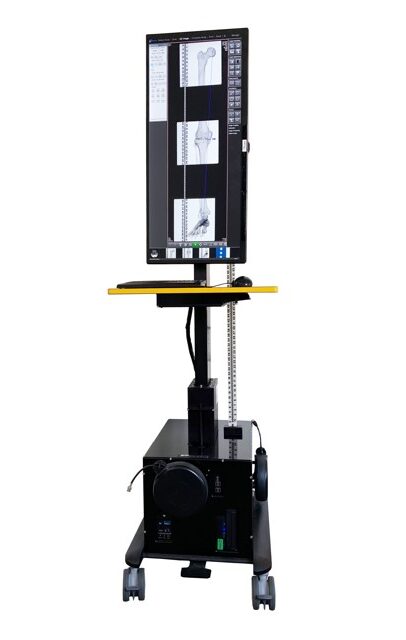 The Radlink GPS Trauma Tower delivers the Surgeon's Checklist® software in a device specifically designed for Trauma procedures. Featuring a 34" ultra-wide monitor, surgeons can fully view stitched images of longer bones, which can then be measured and evaluated through the Trauma workflow of the software. The accompanying radiopaque rulers provide calibration and measurement capabilities to support the accuracy and efficiency of the procedure.